60 Day Money Back Gurantee 10 Year Limited Warranty
What is the Vortex Water Revitalizer? The Three most Important Benefits of the Vortex Water Revitalizer
The three most important benefits of revitalizing your water with the Vortex Water Revitalizer (VWR) are:
1) Your water becomes instantly absorbed by your body without the need for your body to "digest" it first and then it tastes great too and feels even better.
2) The VWR increases the amount of dissolved oxygen in your water towards its natural level.
3) The VWR eliminates and prevents slimy bacteria build-up.
The instant absorption of revitalized water into your body gives you new energy and improves the digestive system resulting in better elimination of bodily waste. Revitalized water efficiently transports nutrients to the body's cells and transports waste products and toxins out of the cells. Test has shown the amount of dissolved oxygen in e.g. well water was increased by up to 25%. The Vortex Water Revitalizer naturally softens the water, eliminating or minimizing mineral and rust deposits in coffee makers, dishwashers, cookware and plumbing.
It can even clean out existing mineral deposits (caused by hard water) in your pipes over time. Revitalized water does not slosh in your stomach! The Vortex Water Revitalizer improves the taste and smell of your tap water. Even the taste and smell of chlorine disappears quickly depending upon the amount. You can also store your revitalized water for many months, which is good if you are sailing or on holiday in your mobile home. It stays fresh, clear and tastes great.
Below you can see the internal design of the Whole House Standard Vortex Water Revitalizer 3/4' diameter Copper. All of our models are using the same beautiful principles of vortex induced implosion.
We cut the pipe in order to show you the inside. All models has this design internally. This is how the life forming energetic process of vortex induced implosion is facilitated by the Vortex Water Revitalizer!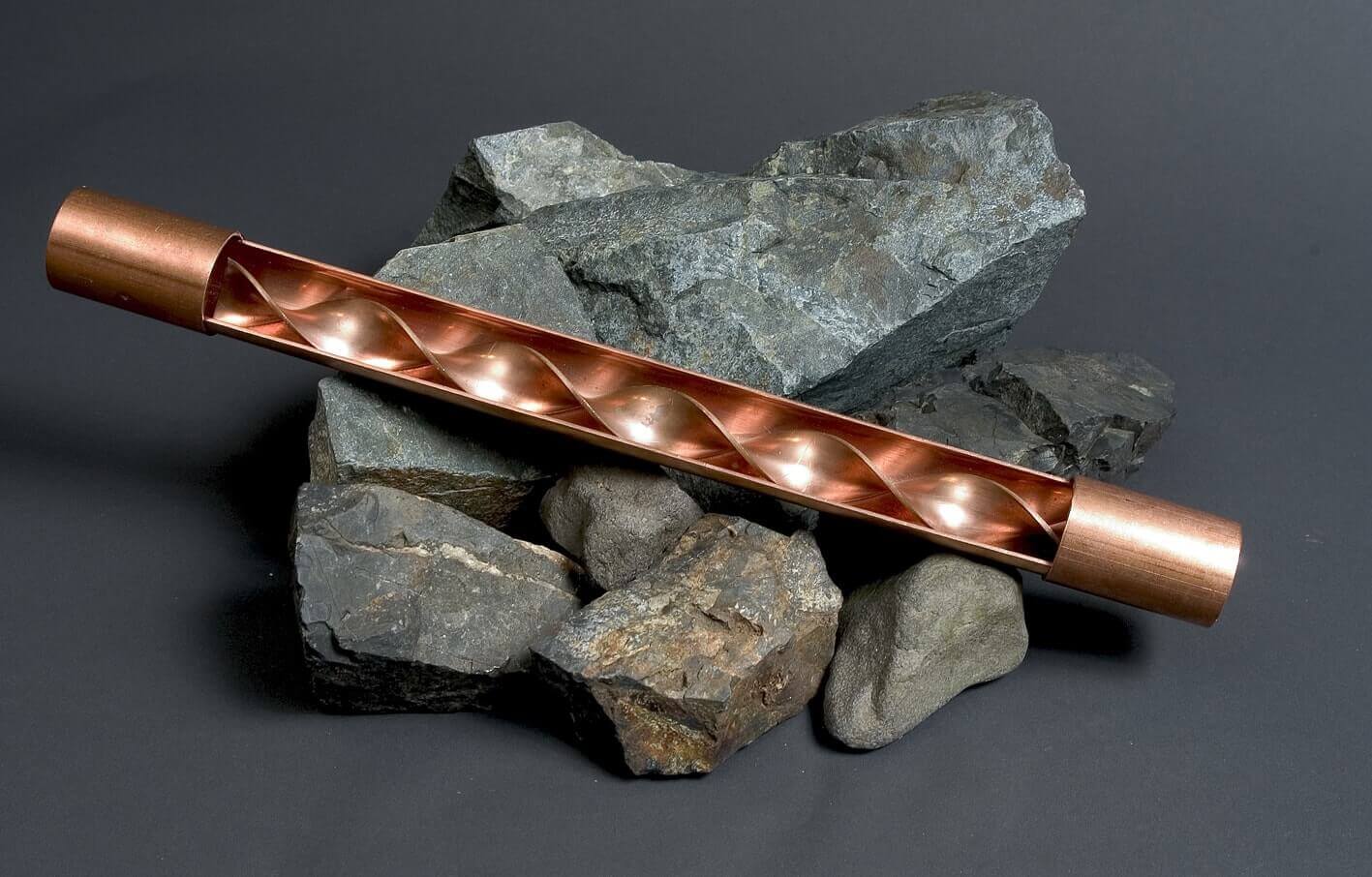 The Vortex Water Revitalizer is based upon an evolutionary concept in Water Treatment. It performs far beyond what any filtration system, distiller or reverse osmosis system will ever do for you. It processes all your water in a direct way, leading it into a double helix DNA type cycloid, curved spiral flow-form, which creates a powerful vortex induced implosion in the water. The Vortex Water Revitalizer uses Mother Nature's proven methods of generating energy within the water via the process of vortex induced implosion. Implosion is part of Mother Nature's unique life forming energetic process. It is the opposite of the explosive principle, which we all know to cause heat, destruction, death and disease.
By using the power of vortex induced implosion via flow dynamics, the Vortex Water Revitalizer transforms the water and restores its innate powers. The Vortex Water Revitalizer provides you with high quality water full of vitality. None of the filter/distillation systems or even bottled water can offer anything like it. It is also known as 'Living Water' and is the basis of all life in our world. Because revitalized water from the Vortex Water Revitalizer is so easily absorbed by the body, it feels as if it disappears while drinking.
The natural movements of water are being simulated in the Vortex Water Revitalizer. This allows denatured, lifeless tap water to be brought back to its natural state and be instilled with its natural, life supporting properties. By putting water through its natural flow dynamics, water's self-cleaning, antibacterial properties are restored, it is brought to a natural pH balance, and it is naturally softened.
Background Story of World Living Water Systems
The designer of the Vortex Water Revitalizer models, Mikael Lund CEO of World Living Water Systems, was inspired by Viktor Schauberger (30 June 1885 – 25 September 1958), an Austrian forester/forest warden, naturalist and philosopher, who wrote more than 60.000 pages in German, before he died in his beloved Austria. You can read an article about him and his work called 'the Magic & Majesty of Water' in our About Us section below
The author of this article is Callum Coats, who has given his permission to us to post this wonderful article on our website. As the foremost expert on the great works of Viktor Schauberger he has also written several books, which you can find on amazon.com. The titles of some of his books are as follows: The Water Wizard - The Extraordinary Properties of Water [Volume 1] Viktor Schauberger - (1998) - 256 pp. 33 illus. Nature as Teacher - New Principles in the Workings of Nature [Volume 2] Viktor Schauberger - (1998) - 192 pp. 9 illus. The Fertile Earth - Nature's Energies in Agriculture, Soil and Forestry [Volume 3] Viktor Schauberger (2000) 220 pp. 16 illus. The Energy Evolution - Harnessing Free Energy from Nature [Volume 4] Viktor Schauberger (2000) - 278 pp. 61 illus. Living Energies - Viktor Schauberger's brilliant work with Natural Energies Explained Callum Coats, (1996) - 5th printing - 320 pp. 218 illus.
"THIS CIVILIZATION IS THE WORK OF MAN, WHO, HIGH-HANDEDLY AND IGNORANT OF THE TRUE WORKINGS OF NATURE, HAS CREATED A WORLD WITHOUT MEANING OR FOUNDATION, WHICH NOW THREATENS TO DESTROY HIM, FOR THROUGH HIS BEHAVIOUR AND HIS ACTIVITIES, HE, WHO SHOULD BE HER MASTER, HAS DISTURBED NATURE'S INHERENT UNITY."
~ Viktor Schauberger~
Documentary Film: 'Water - the Great Mystery', a fantastic movie with several leading edge scientists explaining the facts about water as the elixir of Life.
Since the embedding option is not working, you can simply click on this link to see the movie: http://youtu.be/FbDJr6M0uPY?list=PL4968CC688194B6EC
Water: The Great Mystery
Forms and Downloads you can click on, view, save, print, email or mail to friends and family to SPREAD the WORD
World Living Water Systems Ltd. is Accepting New Distributors.
At World Living Water Systems we are working towards improving the world one Vortex Water Revitalizer at a time. We would like to share with you a way to be a part of this blue-wave. You will be rewarded for your efforts. Our profit-sharing program is amongst the easiest and most-rewarding in the industry and even across industries. We offer two ways to work with us; working with us DOES NOT have to cost you a penny. The two programs are the Affiliate program and the Distributorship program.
The Affiliate Program
With the affiliate program, you will have the opportunity to place a banner of World Living Water Systems on your own website. You can choose among 10 different banners. Once visitors of your website click on our banner and complete their order, you will receive a 15% referral fee of the products retail price. You can read more athttp://www.alivewater.com/affiliates
The Distributorship Program
We will create an online account for you which you can use to login to the website from the homepage of the website. You can also place your orders online and pay online as well. Your distributor pricing is applied automatically. We will ship the product to you or directly to your customer and you will receive the commission via cheque, direct deposit or PayPal deposit. You are also welcome to phone in your order or email it. You are welcome to email us with any questions or suggestions. If you already know that you want to become a distributor, you can fill out the form below.
Join the Blue-Wave and Let's improve this World One Vortex Water Revitalizer at a Time